Recognizing agriculture as a vital lifeline that sustains populations, economies, and National development, Reuben Binpori, the Inclusive Business Models Expert for the European Union Ghana Agricultural Programme (EUGAP) and the Market-Oriented Agricultural Program in North West Ghana (MOAP NW), passionately urged the agricultural sector to redouble its efforts in constructing a more sustainable and resilient agricultural framework.
Speaking at the 13th Annual Pre-Harvest Agribusiness Conference and Exhibition's closing ceremony held at the Agrihouse Agri-Village Learning, Training, Innovation, and Demonstration site in Kudula, Northern Region, Mr. Reuben Binpori emphasized the urgent need for renewed purpose and commitment in cultivating a more sustainable and resilient agricultural sector. This imperative is especially pressing in the face of escalating concerns regarding climate change and food security. Adopting sustainable agricultural systems is crucial.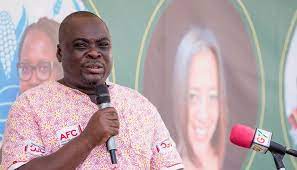 Mr. Binpori highlighted significant advancements made by EUGAP, noting that over 70,000 farmers, agro-input dealers, and agro-processors have undergone capacity-building initiatives. These efforts have heightened the necessity for market systems, certifications, and the promotion of integrated business models to fortify the sector.
"As development partners in Ghana's agricultural sector, our focus lies in creating robust, competitive, and sustainable platforms that interconnect value chains. Through these platforms, our aim is to achieve higher quality and quantity of farm produce reaching markets, ensuring collective food security, and providing improved access to capital for smallholder farmers and other value chain actors," expressed Binpori.
"Sustainable agriculture is not a choice but a necessity. We must wholeheartedly embrace innovative solutions, from precision farming techniques to organic farming methods, to ensure a sustainable future for generations to come," he added
He also highlighted that the European Union Ghana Agricultural Programme continues to support their partners with resources and practical knowledge, empowering them to promote and adopt intelligent climate and good agricultural practices. Additionally, numerous initiatives introduced by EUGAP through the MOAP-NW and REACH component project continue to have a significant impact on the agricultural sector.
Throughout the 3-day 13th annual pre-harvest conference and exhibition, a diverse array of experts shared insights encompassing sustainable business and farming practices, climate-sensitive agricultural production, and technological advancements. He used the opportunity to call for more collaborations among farmers, researchers, policymakers, and industry players to drive meaningful change within the agricultural industry.
Expressing deep gratitude, he commended Agrihouse Foundation for their enriching contributions in improving the agricultural sector through ,the annual pre-harvest agribusiness conference and exhibition .

He also encouraged farmers and actors in the agricultural value chain to embrace a renewed sense of purpose and commitment, marking a vital step towards establishing a more sustainable and resilient agricultural sector.

BY:AGRIWATCH REPORTER