Eva Amene, a 30-year-old farmer from Otoase, has become an inspiration to many as she combines her passion for farming with a heartwarming commitment to helping orphans in her community. Eva's dedication to agriculture has not only brought her personal success but has also enabled her to make a positive impact on the lives of others.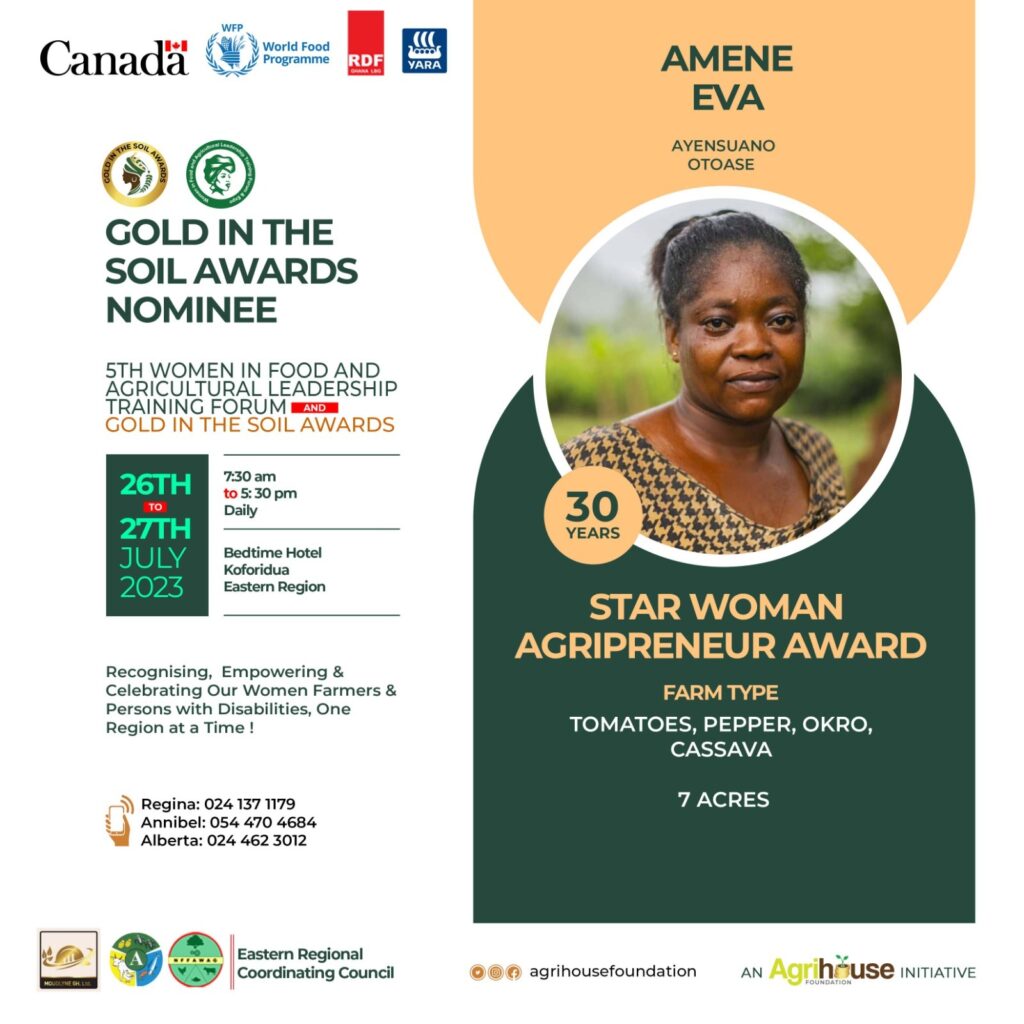 What sets Eva apart is her desire to give back to her community. Despite her own challenges and limited resources, Eva selflessly donates a portion of her farm produce to local orphanages. It has always been her dream to bring smiles to the faces of the children who need it most, and she uses her farming success to accomplish this noble goal.
Through her hard work and dedication to farming, Eva has also been able to acquire land for herself. Saving diligently, she dreams of building a house of her own, a testament to her determination and long-term vision for a better future.
When asked about her motivation, Eva expressed, "I believe in the power of farming not just to provide for oneself but also to make a positive impact on others. It brings me joy to share my harvest with orphanages and contribute to their well-being. I am grateful for the opportunities that farming has given me, and I hope to inspire others to pursue their dreams and give back to their communities as well."
Agrihouse Foundation's Production Team are presently traveling across all 33 districts in the Eastern Region, their mission is to document the remarkable achievements of 62 shortlisted women farmers and farmers with disabilities in the Eastern Region, for the upcoming 5th Women in Food and Agricultural Leadership Training Forum (WOFAGRIC) & The Gold in the Soil Awards, an annual rotational Regional intervention organized by Agrihouse Foundation in partnership with global affairs Canada, captured the story of Eva.
Traveling from district to district, Agrihouse Production Team seeks to capture stories of resilience, innovation, and success, showcasing the immense talent and achievement, and hard work of these women farmers in the Eastern Region.
Their efforts aim to make a profound impact by highlighting the incredible contributions of women farmers and farmers with disabilities, who pave the way for a more inclusive, sustainable, and prosperous agricultural sector that recognizes the vital role of women in shaping the future of food security.
Global Affairs Canada has for the past five years shown a continued commitment to recognizing the invaluable contributions of women farmers by sponsoring Agrihouse Foundation's production team in our quest to recognize, honour, and celebrate women farmers and farmers with a disability, other partners for this year's 5th WOFAGRIC and Gold in the Soil awards also include Yara Ghana and RDF Ghana LBG.
Eva's story serves as an inspiration, highlighting the potential of agriculture as a means of personal growth and community development. Her selfless actions remind us of the importance of compassion and empathy in making a difference in the lives of those in need.
As Eva continues her journey as a dedicated farmer, she serves as a role model to aspiring farmers and philanthropists alike. Her commitment to farming, her community, and her dreams of providing a better future for herself and others exemplify the spirit of resilience and generosity that can create lasting change.
In recognition of Eva's remarkable achievements and her dedication to uplifting the lives of orphans, the community of Otoase celebrates her as a shining example of compassion and success in the agricultural sector.
The 5th WOFAGRIC and Gold in the Soil Awards are scheduled for July 26-27 in Koforidua in the Eastern Region under the theme "OVERCOMING THE BARRIERS TO WOMEN AGRIBUSINESS DEVELOPMENT: THE ROLE OF STAKEHOLDERS," promise to be a momentous occasion. These events will bring together stakeholders, industry leaders, and women farmers and farmers with a disability to award and celebrate achievements, share knowledge, and pave the way for a more inclusive and prosperous agricultural sector.
ABOUT WOFAGRIC AND GOLD IN THE SOIL AWARDS: Agrihouse Foundation's Women in Food and Agricultural Leadership Training Forum (WOFAGRIC) & The Gold in the Soil Awards is an annual event that strengthens and promotes a paradigm shift in celebrating women farmers, processors, marketers, and individuals contributing to the agricultural value chain. These awards acknowledge the remarkable efforts of women in various sectors, including transportation, packaging, technology, and input dealers. Every year, the event moves from region to region, searching for these extraordinary women who play a significant role in putting food on our tables. Regardless of their abilities, they are thriving to contribute to the growth of the agricultural sector.