Nana Felicia Akyeameh, a 57-year-old farmer from Akyem Akropong, stands as an exceptional figure in the world of agriculture. Inspired by her father, a respected chief farmer, she set out to follow in his footsteps, and she has since become a visionary farmer, philanthropist, and a true inspiration to her community.
With an extensive agricultural portfolio, she manages an impressive 270 acres of cocoa plantations, alongside 270 acres of palm plantations. Additionally, her fields include rice spanning 4 acres, garden eggs on 3 acres, cassava on 27 acres, and maize on 45 acres. Not content with her accomplishments in crop cultivation alone, she also tends to a thriving livestock farm, including 75 sheep, 20 goats, 20 guinea fowls, 30 doves, and 3 cows.
One of her most significant achievements is her palm oil production factory, established just this year. Through her factory, Nana Felicia has produced over 1000 gallons of palm oil, contributing significantly to the local economy and reinforcing her role as a formidable agripreneur.
Her impact goes far beyond her own farming endeavors. She is a champion of philanthropy ,a Fetish priest who dedicate her time and resources to support her community and those in need. Nana Felicia donates a portion of her farm produce to people in the community and local hospitals, providing vital sustenance to those who require it the most.
Her dedication to giving back also extends to education. Nana Felicia donated 11 computers to Zion Primary School in her community, providing valuable resources to enhance the educational experience for the young minds of tomorrow. Additionally, she actively supports over 30 orphaned and needy children, ensuring they receive the care and opportunities they deserve. Many of these children have gone on to pursue careers in nursing, teaching, and higher education, a testament to Nana Felicia's unwavering support and guidance.
Recognizing her extraordinary contributions, Nana Felicia has received accolades for her outstanding work in agriculture. She was awarded the "Overall Best Farmer in Akyem Kide" in 2022 and the "Best Female Farmer" in 2021, acknowledging her relentless dedication and exceptional achievements.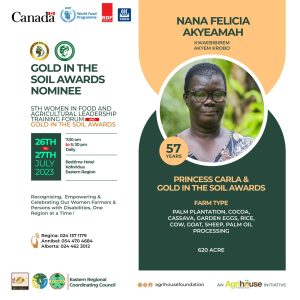 Despite the challenges she faces in her work, such as the need for spraying machines and mowers to effectively maintain her vast farm, Nana Felicia remains steadfast in her commitment to agriculture and her community. She emphasizes the necessity for irrigation on her farm to ensure consistent and reliable crop growth, despite the road conditions that hinder access to her farm.
As an advocate for youth empowerment, Nana Felicia encourages the younger generation to embrace farming as a viable and rewarding career option. She passionately believes that farming, despite its physical demands, is a profitable venture that can make a positive impact on society.
Nana Felicia Akyeameh stands as a living testament to the power of perseverance, passion, and the desire to uplift others. Her journey exemplifies the transformative potential of agriculture and showcases the invaluable role farmers play in nourishing communities and driving progress.
With her unwavering spirit, Nana Felicia continues to sow seeds of change, fostering prosperity, and leaving a lasting legacy that will inspire generations to come.
Nana Akyeameh ,who is vying for the Princess Carla and Ultimate Gold in the Soil Award's story was captured by Agrihouse Foundation's Production Team who recently travelled across all 33 districts in the Eastern Region, their mission was to document the remarkable achievements of 62 shortlisted women farmers and farmers with disabilities in the Eastern Region, for the upcoming 5th Women in Food and Agricultural Leadership Training Forum (WOFAGRIC) & The Gold in the Soil Awards, an annual rotational Regional intervention organized by Agrihouse Foundation in partnership with global affairs Canada.
Travelling from district to district, Agrihouse Production Team captured stories of resilience, innovation, and success, showcasing the immense talent and achievement and hard work of these women farmers in the Eastern Region.
Their efforts aim to make a profound impact by highlighting the incredible contributions of women farmers and farmers with disabilities, who pave the way for a more inclusive, sustainable, and prosperous agricultural sector that recognizes the vital role of women in shaping the future of food security.
Global Affairs Canada has for the past five years shown a continued commitment to recognizing the invaluable contributions of women farmers by sponsoring Agrihouse Foundation's production team in our quest to recognize, honour and celebrate women farmers and farmers with disability, other partners for this year's 5th WOFAGRIC and Gold in the Soil awards also includes Yara Ghana, RDF Ghana LBG and World Food Program.
With dedication and perseverance deserve recognition and support. Her story reminds us of the untapped potential within individuals who, despite challenging circumstances, remain determined to make a positive impact on their lives and the lives of their loved ones.
The 5th WOFAGRIC and Gold in the Soil Awards is scheduled for July 26-27 in Koforidua in the Eastern Region under the theme "OVERCOMING THE BARRIERS TO WOMEN AGRIBUSINESS DEVELOPMENT: THE ROLE OF STAKEHOLDERS," promise to be a momentous occasion. These events will bring together stakeholders, industry leaders, and women farmers and farmers with disability to award and celebrate achievements, share knowledge, and pave the way for a more inclusive and prosperous agricultural sector.
ABOUT WOFAGRIC AND GOLD IN THE SOIL AWARDS: Agrihouse Foundation's Women in Food and Agricultural Leadership Training Forum (WOFAGRIC) & The Gold in the Soil Awards is an annual event that strengthens and promotes a paradigm shift in celebrating women farmers, processors, marketers, and individuals contributing to the agricultural value chain. These awards acknowledge the remarkable efforts of women in various sectors, including transportation, packaging, technology, and input dealers. Every year, the event moves from region to region, searching for these extraordinary women who play a significant role in putting food on our tables. Regardless of their abilities, they are thriving to contribute to the growth of the agricultural sector.