The Northern Regional Minister, Hon. Alhaji Shani Alhassan Shaibu has called on stakeholders to invest intensively towards improving upon the state of market channels in the agricultural sector.
The Regional Minister stated that this will facilitate in combating and terminating agricultural challenges such as poor pricing, post-harvest losses, and mechanization, among others that arise when engaging middlemen in the agricultural market channel.
He reiterated that intensive investment in the market channels will salvage agriculture in the country.
Hon. Alhaji Shani made this call in his address to farmers and stakeholders in the agricultural sector at the 12th Pre-harvest Conference and Exhibition launch in Tamale.
"Now more than ever, we all need to invest in improving upon the state of our market channels within the agricultural sector. In doing so, we tackle and halt challenges including post-harvest losses, poor pricing for our farmers, mechanization and transportation challenges, and concerns that come with dealing with middlemen" He said.
The annual three days conference and exhibition organized by Agrihouse Foundation in partnership with other agribusinesses for the past decade has been a major market linkage event that has created opportunities for members and partners of the agricultural community via exhibitions, field and practical training, demonstrations, buying and selling and networking.
Speaking at the event, the Executive Director of Agrihouse Foundation, Alberta Nana Akyaa Akosa elaborated that the theme for this year's conference and exhibition is focused on putting strategic measures in place to ensure that long-term collaborations and partnerships are established among farmers and agribusinesses, build and strengthen existing marketing linkages as well as create markets for agricultural related SMEs.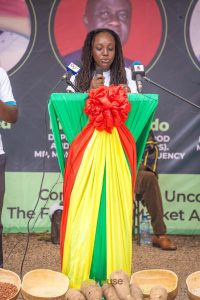 Madam Alberta explained that this year's exhibition and conference have matchmaking sessions that will provide farmer-based organizations with platforms to negotiate and sign business deals with aggregators of cereals and legumes.
She disclosed that industrial agro-processors have already purchased huge metric tons of soya beans and maize from farmers at the ongoing exhibition.
"Right here on these grounds, industrial agro-processors have purchased over 14,000 metric tons of soybean and 31,000 metric tons of maize from farmers," She said.
The Deputy Minister for Food and Agriculture, Hon. Yaw Frimpong Addo in his address at the same event commended the efforts of Agrihouse Foundation in improving food security and nutrition across seventeen districts in the Northern Region via their 1 house 1 garden project.
He, therefore, urged more corporate bodies, development partners and local agencies to support the numerous efforts by Agrihouse Foundation to improve agriculture in the country.
Source:Fiilafmonline/ShawanaYussif